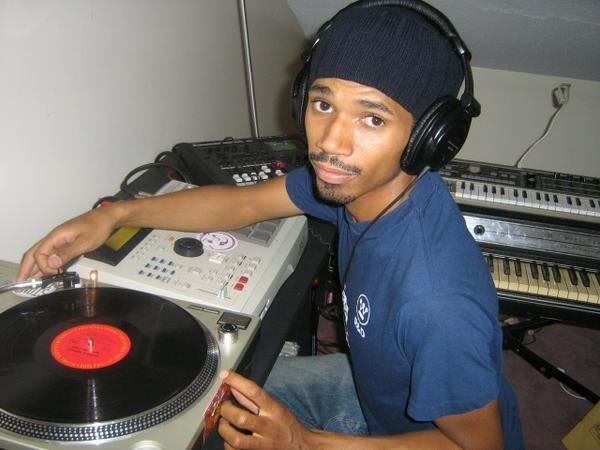 Would like to thank Orlando Marshall a.k.a. Buscrates for giving me the time to be able to get this done. The Dj / Beatmaker is coming out with his second album soon and we get to know more about this self made man. Enjoy.
Where did you grow up and what kind of things were you involved in as a kid?
I grew up Wilkinsburg, just outside of city limits. As a kid, I wasn't really into much..mostly music, cartoons and video games. I remember having an Atari 5200, playing Pole Position and Pac Man..that was about '83.
What kind of student were you? (My dad used to have to drag me out of bed to go school)
Before I got to high school, I was a pretty good student. I used to make honor roll regularly through 6th grade. I was even in a gifted program once. once I got to junior high school though, things changed. I was never really a bad kid, I just started falling off the wheel a bit.
Were your parents into music?
They were into it, especially my dad. I still big him up on having such great music around me as a kid. It is definitely a huge part of what I am today musically. He used to play stuff like Faze-O 'Riding High', he played some Gil Scott-Heron, Bob James, Steve Arrington, Les McCann, a little of everything..I am really blessed to have had that going on in the house. I still owe my dad a mixtape! haha..
What is the first casette, record or piece of music you remember being absolutely in love with?
The first record I remember ever getting and loving was the 12" for Grandmaster Flash & The Furious Five 'Beat Street' . I remember wanting the whole soundtrack but they got me the 12" single. That's still one of the best rhymes ever written, by the legendary Melle Mel..and this was '84. I love that movie still to this very day.
Did you play any instruments?
Before last year, I never played any instruments. Just in Summer of 2008 while staying in NYC, I met this cat name Eugene Lemon in Guitar Center on 14th Street, near Union Square. I thought he was Lonnie Liston Smith! He reminded me of him, the way his hat was and everything. Turns out he's done some work with soul groups like Black Ivory in the 70s, and did a lot of writing on this super-rare Caress LP, produced by Patrick Adams. I got cool with him, and every Saturday I would go over to his apartment building, where they have a piano room downstairs, and he was teaching me different chords and stuff. I credit him for a lot of what I know up to this point.
Who were musical influences to you?
My homie Geeman (who is actually the one who got me into making beats), DJ Spinna, Weldon Irvine, Herbie Hancock, Large Professor, Jay Dee, so many..Stevie Wonder, James Brown, man this list could get outrageous!
You mentioned to me before that you were rhyming before you got into dj'n. Can you get into how you got started with your lyrical skills?
I used to rhyme back in like 7th grade. We would all hover around the table during lunchtime, and I was pounding beats on the lunchroom table! There were a few of us rhyming and stuff back in those days..my man Divine Seven was there, we went to school together back in '91 (we collaborated on a project last year called 'Seven Wonders'. He's a very talented lyricist!). I was mostly a freestyler, I have not written many rhymes at all!
And then how did you get involved as a DJ?
Very early on..I remember there was a talent show at this place called The Dallas Club, in '86. Sly Jock let me blend some records .I remember it was Cameo - Word Up..and I was just as happy as can be..up there, this little 8-year-old kid on Sly Jock's turntables! This guy is a local legend around here. Then my cousin Jai got some turntables in his basement, I was rocking the tables at his crib when I was about 10 or 11.
How did your debut LP 16-Bit Ensemble get started?
Andrew Burger of 720 Records wanted to put out a 7" of some of my music for his new label, Harmony Society. He wanted mine to be the first release on that label. This project was in the works for about a year. Three of the four songs were created when I lived in New York, the last track "Frozen Extremeties" was recorded here in Pittsburgh. Big shout out to my man Sam Champion in NY, and Nice Rec here in the 'Burgh for letting me use their Rhodes pianos on that project!
I read you are currently working on a release scheduled for feb 2010 , can you elaborate more on that?
As of right now, It's slated to be a full-length instrumental album titled 'Alarm Clock'. I'm thinking of anywhere from 10-14 tracks. I just got the first draft of the cover for it done. Andrew designed this one, too. I came up with that title because from time to time I would hear people say things like 'oh man, you're so slept on'..and I want this particular album to act as an alarm clock, to wake up the sleepers. It was among the first titles I came up with, and it stuck so I went with it.
What are your feelings with current state of hip hop?
While most of the good stuff isn't exactly at the forefront cause of all the big labels pushing garbage, I think hip hop is very much alive and well. It's not as easy to get the good stuff like it was in say..1993, you have to kinda search for it a little more, but it's out there, and I still got love for it.
Thanks a lot Buscrates. Here is a link to purchase his debut lp 16-Bit Ensemble.
http://www.720records.com/dispatchSite.cfm?section=shop&page=detail&category=&SKU=18684
He will also be at New Amsterdam in Lawerenceville on Wednesday Dec. 23rd (My Birthday!) for a nice night of hip-hop with J-Sands of Lone Catalysts and J-Malls. $5 cover over 21 show.
MG