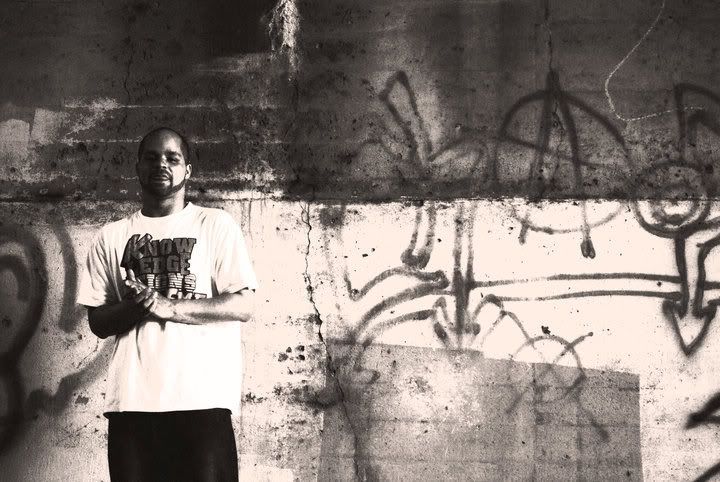 I catch up with this hungry emcee who has been a staple in hip hop scene in the city of Pittsburgh over the past several years. Let's go...
Where did you grow up and what kind of things were you into as a kid?
I grew up in the central North Side area of Pittsburgh, Pa. I was a pretty good kid but I definitely had a bad side. I didn't get in alot of trouble as a kid but i did have instances of destroying public property and whatnot.I guess I was a typical kid outside of having alot of family responsibility from a young age. I definitely watched alot of television as a kid and I think its bled into my colorful personality. I was big into Ninja Turtles, WWF, Power Rangers, and the Ghostbusters. Not much has changed.
What were your earliest music memories?
My father had a studio in our basement when I was a kid. I remember all of the posters on the walls and ceiling and all of the equipment that I wasn't allowed to play with. I can also remember sneaking with my older brother and his friends to listen to The Chronic which was not very kid friendly. I really got to witness music from the ground up with a studio in the house. If i knew where i'd be now i would have paid more attention back then.
What artists or groups really inspired you?
I'm inspired by more artists than i can really think of offhand. But off the top of my head I'd say I'm most inspired by: Nas, Dj Quik, Big Pun, Tha Dogg Pound, 1996-2000 Cash Money, J. Dilla, Eminem, Jay-Z, and K-Rino among others.
When was the moment that you decided to persue a music career?
The day I realized I could get on stage and outperform someone with more acclaim than myself. I wrote lyrics since around 11 or 12 years old but I never recorded a song or actually attempted to put my raps into people's ears until i was 17. I started to realize my ability shortly before this after seeing artists like Charon Don, Strict Flow, and The Roots perform.
Did you have any music mentors or anyone that worked with you in the beginning?
No, not really. Charon Don has always been a positive influence on me but we didn't always chop it up especially back then. One of the big things I experienced in the city was alot of the older guys weren't really open to help teach the younger cats something. People just in it for the status and thats all fine by me.I know as i get older, if i'm in position to i will always help out the next in line as much as i can.
I still gotta respect those who looked out for me when i was coming up. Peace to Charon, Dos Noun, Verbal Tec, Dj Big Phil, Drake Steelz & everybody else out there that showed respect from the gate.
Do you feel you can grow as a person and as a hip-hop artist in Pittsburgh?
Yes. It's just up to us as artists to take control of our music and ideas. Small-Town-Mentality has kept Pittsburgh very low when it comes to entertainment and we're all witnessing the beginnings of a change in that department.It's up to us as artists to keep innovating and finding new ways to grow, not only as artists but as human beings.
What are your feelings on the current state of hip-hop music?
The state of music itself is pretty good. I love music and I still feel like alot of quality music is being produced on a commercial and independent level. The state of the music business is a complete joke and it makes the concept of making music so much harder to live with.I'm not mad at the music itself but i'm definitely mad at the people in charge and some of the fans.
There is no more neutrality in radio/tv so the playlists are all slighted and the industry is falling apart at the seams. Until artists boycott major labels and take control of themselves or the labels destroy and rebuild the system, things will continue to crash. It's not very easy to see which direction things are going in at this point.
What are some things that Kid A is into off the stage?
Im a football nerd so see me on Sunday!! My fantasy teams struggled last year from me having shows on draft days and me just being lazy with it but this year its on!! I'm a huge music fan so I try to keep up with whats out to a degree. Can't let new music flood your creative process but I like to keep up with thats good and new. Every year I lose more faith in the MC's I once prayed to and now its time to find other artists out there to relate to.
Please tell us what to expect from you in the near future?
I am about to release my first full-length project of all original material entitled Blunt Guts & Glory at the end of May. Its been years in the making and at this point i just want to release it to get the weight off of my shoulders. It will never sound like i wanted it to but the project itself has been very instrumental in my growth and is a perfect segway into the next chapters.
I've been working on my project with extra-phenomenal Dj Buscrates which is very important to me. I've slacked on it a little just to get #BGG out because I've been sitting on alot of the songs for awhile, but I cant wait to release that one. In addition to those, I am also working on projects with producers James Moore & Dj Thermos, among others. Right now the plan is to really take advantage of 2011 and get out as much music as possible.
What are some of your goals?
I really want to release this music for everyone's ears so I can really gauge what I am able to be as an artist. I want to tour the world, numerous times, so I really want to make progress on that. I also want to continue to create music for myself and others until I have none left in me. If i can impress a few people in my lifetime i'd be happy with that.
What has been your most memorable moment as an emcee?
I don't really feel like I have a set memorable moment, but I've had many. Anything involving a packed crowd is a memorable experience for me. Opening for Tech N9ne was great and definitely a top moment. Also my first big opening gig for Aesop Rock even though I was very young at the time. Recently opening for Method Man & Redman, and also Wu-Tang Clan were huge and a great experience on all levels.
What was the motivation to go with the name Kid. A?
Rap names suck! It actually took me a long time to get to such a simple conclusion. For years I went as EMS(Everything Makes Sense) and while I'll still go by it, I never cared for it. I was always thinking of a better name but never could think of anything that I really liked myself. One day I was listening to Radiohead's album of the same name and it just kind of hit me.
My first name is Aarie so I'm used to people calling me A, and my mom & family have always called me Kid so I just ran with it. It sucks to get thrown into the list with other Kid's, Young's and Lil's but i feel like mine means a little more than the average Young Slappa.
For bookings & collaboration info, email thekidA586@gmail.com. For music and updates please go to:
http://kidA412.bandcamp.com
http://KidA412.tumblr.com
Also check out the Kid A facebook page and follow the ever-so-trendy twitter account @A412Kid.
Special shouts to Michael for the interview and the respect. Much love to Buscrates, Proseed, Varsity Squad, Shindiggaz, Ayatollah Jaxx and all my other comrades around the city and beyond. Positivity and Prosperity!!!
Thanks a lot Kid A for helping me put this together and you got many people out there excited to hear new music from you. I wish you peace, hapiness and success my man.
M.G.