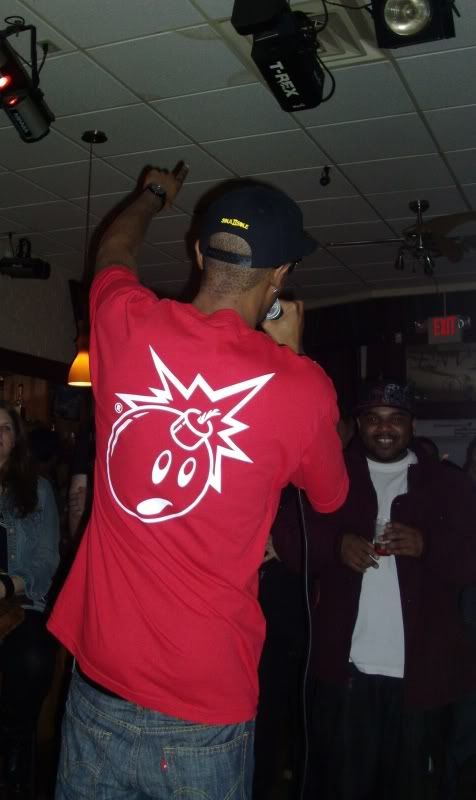 I revist with HUBBS after his debut mixtape,
Modern Vintage
, has become a large success.
So HUBBS, what's up, what have you been up to since the February release of Modern Vintage?
DJ MG what's good man, thanks for having me again. It's been quite an adventure since I dropped Modern Vintage back in February. I've had extreme highs and extreme lows, which include seeing an overwhelming amount of love and support from everyone who came across the mixtape, to the passing of my father in March. This all of course, began with the Steelers Superbowl loss [sarcastic laugh]. But through the joy and pain, it all has brought me to a good place and state of mind, which I am currently in. Which allows me to continue to be creative, as I work on my next project, Present Future, which will be released in July. Other than that, just making my footprint in the local hip-hop scene, and establishing rapport with those who share the same artistic passion as me. And of course, I've been in the lab, not only working on Present Future, but also current tracks that I've been releasing, such as "Come Home," "Mini Ripp," along with the N.E.R.D. freestyle and the Kanye freestyle I just put out. I did a show last month too, at Envy in Garfield, which was ill. Just tryna stay active and consistent.
So how do you feel about the feedback from Modern Vintage?
The feedback was incredible man. People were blown away not only by the track selection, as a tribute to the 90's, but also the authenticity and detail of the rhymes. I put everything into that project, it was very personal. I think that went over well with the listeners. I'm amazed by how far it reached. I had people hittin me from Cali, NYC, Atlanta, London, Philly, and several other places, all showing love for Modern Vintage. There are still MANY people out here who have yet to hear it, which is unfortunate, but I feel gratified by the positive feedback I've gotten from some of the respectable hands that it has come across, which include those who carry the cd. You can currently get copies at Time Bomb in East Liberty, Soul II Sole on the Southside, Stedaford's on the Northside, and Upbeat Records in Wilkinsburg. The internet download is still available of course, at DatPiff.com.
So tell us about Present Future, and what we can expect from this project.
Present Future describes the position that I believe myself to currently be in. With the passion, creativity, and ability that I bring to the game, I feel that I can have a solid impact, along with all the others who are contributing and succeeding in the local scene, in carrying on the future of this music. I also have always been told that I am ahead of my time, or beyond my years. I've always had a strong influence from elders, like my brother Alim and his peers. Like I said on Summer Snow.. "I'm so 20/20, that means my vision's clear/and I'm ahead of my time, so that's my present year." That line best describes this project. In short, I am presently in the future [laughs]. Musically, it will still feature a sound that reflects the raw essence of hip-hop, but it will be coupled with a modern and even futuristic and eclectic sound, from a production standpoint. I will be playing a key role in the production too, by the way. I've been giving a lot of energy to that side of it so far, with the help of Nysceworkk, Hitt of MCM, and a few others. The rhymes will continue to reflect the everyday instances, topics, and experiences of life, as well as typical HUBBS bravado and wit. No freestyles on this mixtape, ALL original tracks, with features from Pablo Neruda, Abso Blair (winner of Pittsburgh ANTUKS Cypher Best Bars Contest), and a few others. It'll be released on July 23rd, at my birthday party/show, which will feature a live HUBBS performance that will feature some other artists that I've been working with. The location is to be later disclosed.
What are some key things you have learned along this process?
Man, I've learned a lot. First, I've learned that you HAVE to be humble, which is something that comes natural to me. You have to realize that there are A LOT of other talented artists out here, and a lot of cats putting in serious work. You have to realize that it is a process, which will not come easy, even with talent. Attitude is everything. Everyone is not gonna kiss your ass, and praise you. Expecting that, leads to disappointment and bitterness, which you see a lot in the game. Expectations can kill you. You can't even expect all your friends or close people to support you, even though most will. Gotta just focus on the music. I've also learned how important promotion is. Gotta use every possible outlet to get your music out. It costs, but it makes a serious impact on establishing and also maintaining buzz. Present Future itself, will display my growth as an artist, and represent much of what I continue to learn.
Well HUBBS, I thank you for checking in with us again, and we look forward to the release of Present Future. Any shoutouts?
No doubt man, and yes, I wanna give a shoutout to everyone who genuinely has my best interest at heart, and has a sincere desire to see me succeed. The love is much appreciated, and critical to my success. Shoutout to all the naysayers, keep doing your job as well. Without you all, many of the great people of this world would've never come to be. Keep it up [chuckles]. Shout to my family, my mom, brother Alim, my two sons Deshawn and Deston, and R.I.P. to my pops, Lawrence Hubbard. Love you pops! My cousin Vince out in Cali, Kenya in ATL, and all my other cousins, aunts, uncles, and family members. Peace to my man CP, and my dude Epps. Ya'll been right at the core. Mike Hutty, K. Hammond, P. Neru , my "snerdy lady", Dennis up in Harlem, Kyle, J. Coleman, Myles, my man Keith, J. Brock, Matt Russ, MyyaG, Shaking, Paul Dang, Ray Jeez, Nick, Dom, Protho, Twon, C. Crawf, Arch, Andy Black, the Schifino family, Akida, Marques Ham,"D" and "B" Johnson, Nate, Eddie B., Varro, Shawn, Krystal, Motor of Taylor Gang, Bruce Green, Craig G, Anth, Ricketts, J. Nunley, Nico, Joe Ceph, Hitt, Nickbe and everyone over at MCM, my man Nysceworkk, the whole PH, Fife up on the Hill, and everyone else holdin me down up there. Shout to my dude DJ Drastik over at Soul II Sole, Brick and KT over at Timebomb, T. Bangs, Image, Lil' Tone, Abso, Envy, RepPghHipHop.com, Thepittsburghscene.com, Chux Beta, and all the other outlets and artists that have helped me get the music out. Peace to everyone I forgot.. much love from HUBBS! And as always, shoutout to my dude DJ MG and the Hip Hop Haven.
New and Unreleased Music from HUBBS:
"Come Home":
http://www.youtube.com/watch?v=o-Ahdx5pqTk
"Mini Ripp":
http://www.youtube.com/watch?v=HM3M0zReYTo&feature=related
"Kanye West Freestyle":
http://www.youtube.com/watch?v=rWj6eYn88h4
"N.E.R.D. Freestyle":
http://www.youtube.com/watch?v=q1J3qzWqXZk&feature=related
"NWA 'Appetite for Destruction' Freestyle":
http://www.youtube.com/watch?v=zysl0oM5y0M&feature=related
MODERN VINTAGE Download:
http://www.datpiff.com/Hubbs-Modern-Vintage mixtape.201892.html%20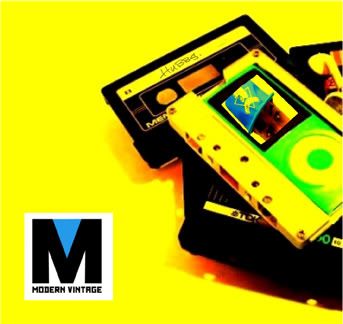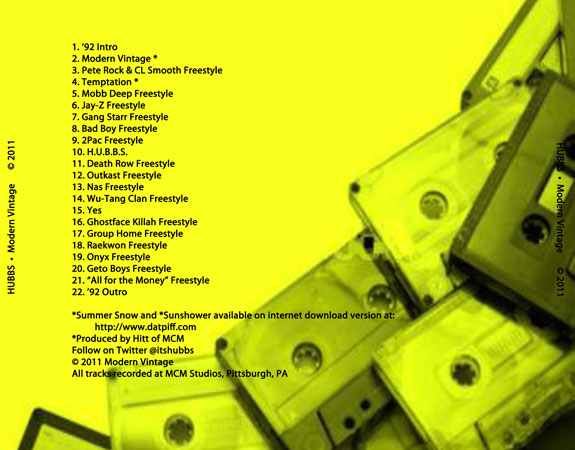 Twitter
:
http://www.twitter.com/itshubbs
Facebook
:
http://www.facebook.com/itshubbs
Youtube Channel
:
http://www.youtube.com/itshubbs
Reverbnation
:
http://www.reverbnation.com/hubbs
Enjoy,
M.G.