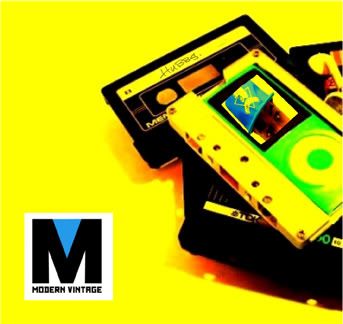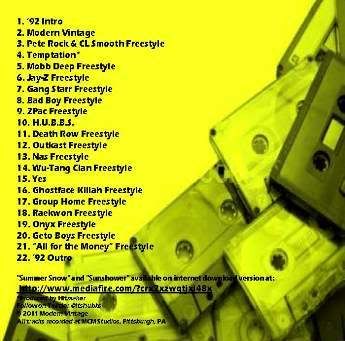 http://www.mediafire.com/?crx2xzwqtjxj48x
Hubbs, a talented emcee from Pittsburgh, Pennsylvania has his debut mixtape "
Modern Vintage
" drops today as a Super Bowl treat. Features freestyles over various Hip-Hop tracks of the 90's, of legendary producers such as DJ Premier, Pete Rock, Havoc, The Rza, Dr. Dre, among others. A few of the original songs included on here, Temptation, Summer Snow, and Sunshower, were produced by Hitt of MCM. A special shoutout also goes out to DJ Nysceworkk. I talked to Hubbs about this exciting new release.
Hubbs, this is your debut release, please tell us what we can expect to get from this mixtape.
I would say this mixtape is a nostalgic salute to the 90's era of Hip-Hop, and also much of an autobiographical reflection. You can expect to hear detailed rhymes, personal recollections, and witty wordplay, coupled with some of your most favorite instrumentals of the Golden Era of this genre. Every freestyle has three or four beats within one track. In many ways, it is a musical collage.
How long have you been working on this release?
I started recording most of the material on the mixtape early last year, like spring of 2010. A few of the original tracks that I also included, were recorded back in 2008, but I decided to re-record them. On the original songs that were not produced by Hitt of MCM, I used beats that have come across me over the years by various people. I have a ton of random beats that people have just handed me on beat cd's or mp3's, as far back as 5 years ago. So I decided to put a few of them to use. As far as the rhymes, there are verses that I wrote as far back as 2005, as well as verses that were written as soon as late 2010. But as a whole, we'll just say, it's been a long time coming.
Do you have any other featured artists on this with you?
No. This was a solo effort in every aspect of the word. I wanted to establish myself as an individual with this cd. My next mixtape, Present Future, which I'm already beginning to record, will feature my man Pablo Neruda, a long time affiliate and close friend, and I'd say maybe another artist or two, which I won't mention at the moment.
How long have you been an emcee?
Man, I've been doing this a long time, believe it or not. I'd say I officially started rhyming around 1996, when I was 14. It was right in the heart of the era that this mixtape represents. I remember my man Sha-King, a local Pittsburgh emcee, who has been a friend since childhood, approached me in 9th grade, and asked me if I'd be interested in being in the school talent show with him. He asked my other man Mike "Pooter" as well. Sha-King had been rhyming for years by that point, but Mike and I had only written rhymes on occasion, just out of hobby. We never recorded or performed anything. But I remember being like "why not" when Sha asked me. We came up with this song, over some ill instrumental with this Biggie voice sample in the hook, and killed the talent show. We were on some young don sh*t (laughs), rockin trench coats and suits and all that. It was wild. I had the last verse on the track, and I remember cats in the crowd goin' nuts when I came out and spit my verse. That's when I knew I had some talent, and also that I enjoyed rhyming and performing. We formed a group called Soul Fabric, and gave our crew the unofficial name of The Forgotten Crew, which also included my man Kenny, who was a DJ, and my man Clyde, who was just a Hip-Hop lover in general. He used to break dance. But I was also into other stuff, I used to hoop, and that was my main focus over the next several years. We laid down a little tape, with some songs and freestyles we recorded, but never did much after that. I didn't start taking rhyming serious again until like 2002, which I discuss on my Outkast freestyle on here. So like I said, it's been a long time coming.
Who are your musical influences?
I would say this cd is a display of most of my musical influences, from a Hip-Hop standpoint. With verses over songs from everyone from Nas to Jay-Z, to Biggie, and group like Gang Starr, Mobb Deep, Wu-Tang, etc., this mixtape is collection and much of a tribute to all of the artists and groups whose tracks I chose to rhyme over. I also included some of my west coast influences, like Dr. Dre, Snoop, and MC Eiht, who I grew up listening to throughout the early 90's. From a non-Hip-Hop standpoint, my mom exposed me to a lot of the R&B from the 60's and 70's, like Smokey Robinson, Parliament, all the Motown cats, Stevie, Teddy P, Donny Hathaway, and so many others, and of course as an 80's baby, artists like Prince, Michael Jackson, Whitney Houston, among others, all played a big part in my musical influence. My grandfather, Robert Head, was a jazz musician, as a pianist, in the Hill District, throught the 40's, 50's, and 60's. My mother, who grew up in the Hill District in Elmore Square, also was a musician. She played the flute. I also played the trumbone and violin as a child. So I come from a very musical family and background. Now days, I'm into cats like Kanye, Styles P, Jadakiss, Lupe, Jay-Z, Lil' Wayne, Drake, and a lot of today's heavyweights who have taken and even carried the torch since the Golden Era. I'm a big N.E.R.D. fan too. I think Pharrell Williams is a musical genius. I'm also inspired by a lot of Pittsburgh's local artists, like Wiz Khalifa, Formula 412, Boaz and S. Money, Pablo Neruda, Mac Miller, Lennox Champ, The Governor, Living Proofe, Sha-King, my man Hitt and the whole MCM, Commonwealth Family, and the whole ANTUKS Movement has been ill thus far. I've always been a music fanatic; it's like a necessity of life for me.
Where can we download the mixtape?
It's available now for free at
http://www.mediafire.com/?crx2xzwqtjxj48x
and I may be putting it on datpiff.com as well. I will also be distributing free copies throughout the city, at local Hip-Hop music and clothing stores.
Where can we see you perform next?
I don't have any upcoming shows on the itinerary at this point, but will likely be doing some shows once spring hits. I'm also planning on doing a show/birthday party in late July, which is in the works.
Shoutouts...
I wanna give a shoutout to MCM Studios, where I recorded this whole project, with my man Hitt and Nickbe. That's a solid studio and movement. Much love to them. I also wanna shout out all my close affiliates, my man Nysceworkk, Pablo Neruda, Lennox Champ, and The Governor. Shout to my family, mom, pops, my brother Alim, my 2 sons Deshawn and Deston, all my dudes, Kenny, CP, Dennis up in Harlem, Kyle, J. Coleman, Myles, my man Keith, J. Brock, Drew, Jake, Epps, Joe Ceph, Mike Hutty, B. Johnson, Matt Russ, and everyone else in my circle. I wanna shoutout the whole city of Pittsburgh, and the Eastside of town in particular, from Penn Hills to the Hill and back. I love ya'll. And I especially wanna give a big ups to DJ M.G. and the Hip Hop Haven. Thanks for the feature, much love.
Mixtape is also available for download at:
http://www.thepittsburghscene.com
Show love on Twitter:
http://www.twitter.com/itshubbs
Hubbs, I wish you all the luck in the world. This is not only a very multi-talented young man but a great dude overall. Much love and respect.
Enjoy,
M.G.