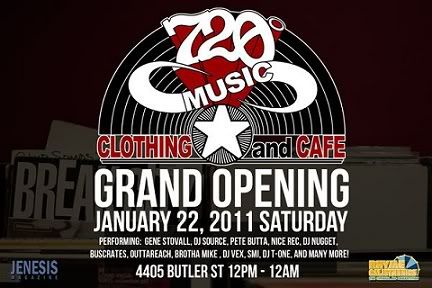 720 Records is opening their doors at a new location this Saturday, January 22nd. Come join the celebration and show support at 4405 Butler Street in Lawrenceville, Pittsburgh. Starting at 12 p.m. they'll be unveiling loads of new music, vinyl & CDs, clothing designs, books & magazines, fresh accessories, edible treats, coffees, teas, etc. There will be a star studded line up of dj's on rotation all day long, the list includes:
Selecta
Nate Da Phat
Maddbuddha
DJ Source
Pete Butta
Nice Rec
DJ Nugget
J Malls
J-Spin
BusCrates
OuttaReach
Brotha Mike
DJ Vex
Aaesir St. James
SMI
DJ T-One
The Get Down Gang
and many more!
Good luck with the new home James Scoglietti.
Check out their website for all your hip-hop needs.
http://www.720records.com/dispatchSite.cfm
Enjoy,
M.G.