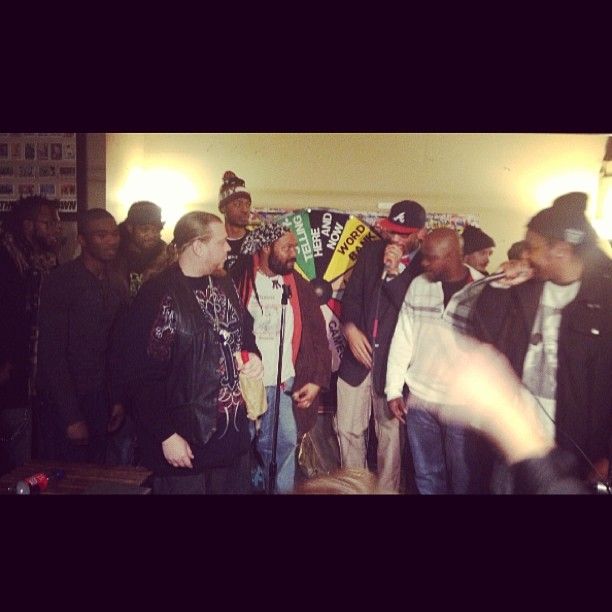 I am very excited to announce that the emcee competition, Rhyme Calisthenics, has just completed it's first night back on the scene with a successful return at 720 Records in Lawrenceville. The event is hosted by a very talented emcee in his own right, Thelonious Stretch, and will be a monthly event following a 4x4 team structure. Stretch had really painted the picture of where the team concept had really come from and it's a great throwback to the way things were in the early 90's in the culture of hip hop. It was really pinning crews against each other, not one man representing himself. This brings a fun element to the table in which you can really grow and feed off of each other. That's what it's all about. This was an event that has a rich history at the Shadow Lounge and has an established reputation within the city of Pittsburgh as a great event. Team EOS took down the crown for first event that took place this past Saturday night. Her team included Reason, Proseed and Moemaw Naedon. They went up against a very talented team that was captained by Shad Ali and his team consisted of Hubbs, Billy Pilgrim and Jeremiah. Big Phil was providing the sounds from his tables and keeping the pulse for the evening.
For those who are new to this event, let me just help bring it all together. There is a wheel that contains numerous topics that will be spun before each round. Some of these topics can be prepared for and some cannot. So you have to be a very well rounded artist to be able to fulfill the requirements to compete in this format. You can be the most creative writer, but can be pinned up against a monster freestyler, a cerebral emcee can be going up against a fierce no holds barred battle rapper. It's very interesting event that does place a great deal of strategy within a team concept. There is a donation basket that will be going around at each event and all cash that will be raised during all events will be go to the winner at the end of the series. Each winning team will advance and will square off each other later on.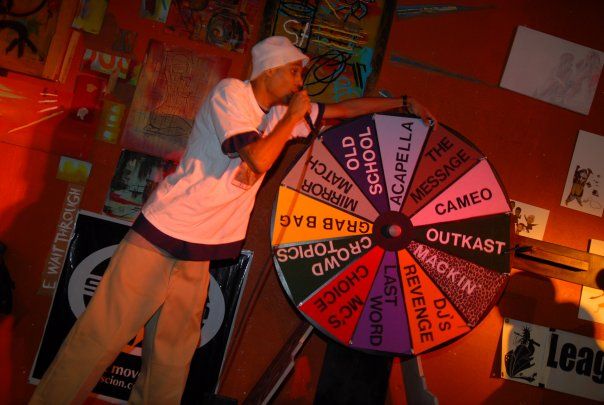 Host, Stretch getting the next round going.
Team Dj Big Phil will be going up against Dj Chevy next month. If you have any questions please hit up Stretch on his Facebook page:
Thelonious Stretch
Enjoy,
M.G.