Bob Freyer, aka, Durt McGurt, aka, Durty-1 is a remarkable artist who is really picking up steam with his creativity by finishing up his first art show at his studio in Plum. I was able to get a more intimate look at the Durty Art founder and learn more about this interesting cat. Enjoy the ride...
What is your earliest memory of art that you can talk about?
The earliest memory that I have is when I was at my aunt's house with my cousin we were coloring with markers; you know the old school ones that had the fruity smell to them. While we were drawing I noticed that if you flick them the ink came out. So, this resulted in us having a marker fight. I mean we got shit everywhere, and the way that the ink splattered on the wall just intrigued me. Needless to say to say we got into some trouble with this.
Besides that memory I always just drew, and came up with crazy drawings of just weird characters. Then there was the occasional drawing on the people in the books at school. Every kid drew a penis on something, you can't deny it, you did it too haha.
Did you feel challenged at all by family, friends or in school to pursue it while growing up?
Absolutely. I was challenged all the time. I would show some drawing I did to my parents, and they would be like "that's nice, now try to draw this". Even when I was in college, I had friends that would get me to try doing something different with my art. I wish I would have stayed in the art studies, but fuck it, can't live off regrets, right?
Who are your biggest influences thus far?
Wow, this is a great question Mike. I mean I have so many people that influence me now and from when I was younger. As always, my mom and dad have always been supporters of anything that I attempt to excel at. My dad would always push me to do better at anything I did. He had it in betted in me that there is always someone better, and if I want to be the best I have to keep working at until I am, and then keep that same work ethic. Now, with him gone I constantly push myself to display the very best I can do. After I finish a piece, I think to myself "did this push me in anyway to be a better artist" "did I learn something new"?
Now, my mom on the other hand was always my biggest fan in anything I did and still do. She always gives me positive feedback, even when she doesn't really like some my art. She just wants to see me doing something that I am happy and passionate about. Growing up with parents that just have you push yourself for achievement is awesome. So, my parents were and are my top influences. Aside from them, definitely my wife, she supports me in everything that I do. Even if it means playing in my little, what I like to call studio.
Currently my top influences are from a wide variety of people; including other artists and hip hop artists. The artists that just motivate to get where they are as an artist are: Jeremy Fish, Jerkface, Alex Pardee, Cope, David Choe, Mancat, Banksy, Shock and there's so many others.
The hip hop artists that influence me are: Sage Francis, Aesop Rock, Eyedea, Jared Paul, Illus, Atmosphere, Kimya Dawson, Cas One, Rob Sonic, KRS One and b. Dolan just to name a few.
The reason that all these people give me influence is through their words and art that they do. Each one has gone out to do what they want and have been successful. Just cause the media and mainstream doesn't either show their art, or play their songs doesn't mean that they're not great at what they do. I know many cats that dig these people, and feel them same way as I do. I have a constant playlist that I use while I paint, and specific songs just put me into a mindset to get the creative flow going.
Great piece of Aesop Rock
You have made some very interesting pieces that are made up of hip-hop culture, can you express what hip-hop means to you?
What does hip hop mean to me? Hip-hop is more than music, it's a life style, it's a culture, and a form of expression. Hip-hop doesn't just state one thing. Hip-hop is a mixture of love, peace, respect, and expression and the culture that makes you who you are. It goes way back to people just rhyming for fun; it's that person on the block that is out graphing on a wall to show his or her talents. It's the DJ spinning and scratching getting the party going: It's accepting someone else cause they are different. Hip-hop is something that influences others, and keeps people educated on a reason, on a subject. Hip-hop is a movement. That what hip-hop means to me.
I think KRS One said it best "Hip and hop is more than music, Hip is the knowledge, hop is the movement. Hip and Hop is intelligent movement."
Can you explain where your name Durt McGurt came from and where you are looking to take your career?
Funny thing is I didn't come up with the name. ODB used this as one of his names, but spelled it Dirt Mcgirt.
When I was working one of my old jobs they wanted to know our names associated with Facebook, this was going to be a way for them to monitor us using our phones during work. I didn't like this idea, this policy, and made me feel that there was an invasion of privacy. So, in return, I changed my name to Durt McGurt. I figured they wouldn't find me. From there on I have been called Durt. This in return has turned into Durty Art, and Durty-1.
My vision of my art career will go as far as I want it to go. As long as I keep getting the positive feedback, and the creativity going, I will be happy. If people continue to just view my painted visions that's an achievement to me. I'm not trying to make a million dollars at this, I just want my vision to be view an appreciated.
Where does your creativity come from?
Mike my creativity comes from a variety of places. I can be out, and thoughts just come to me from what is going on around me. Just talking with a friend and the conversation going funny, political, or any other topic will spawn a painted thought. Also, when I come home from work, I take my sleeping pills (prescribed haha), this is when the craziness starts to happen.
For instances, I had a dream one night that I was a hit man hired to take the Easter bunny out. Through this dream I was chasing him, and all the famous bunnies we trying to stop
me. I mean there I was faced to deal with Rodger Rabbit, the Energizer Bunny, Bugs Bunny, the Trix Rabbit, and Babs Bunny. At one point Howard the Duck showed up in this dream and he got slapped around, and this was just to make a point. I mean shit got weird, and rabbits got fucked up haha. I was on a mission. So,the morning I had this dream my wife woke me up before she went to work just to say bye. When she said that she was leaving, all I said was "Fuck the Easter bunny". After I came to waking up more, I got up and wrote this down, and knew that I had to paint it. So, yeah majority of my paintings come from getting weird. That's just what happens.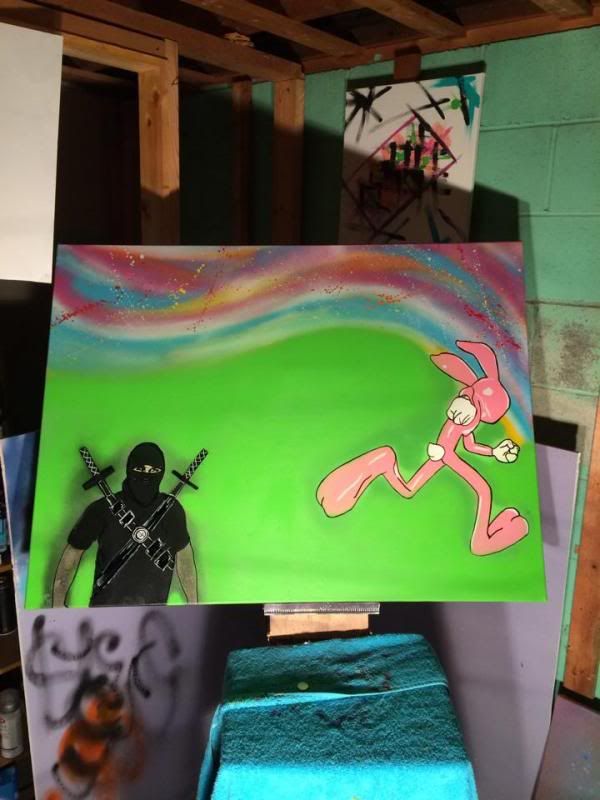 What type of artist do you consider yourself?
Just going through my work you can tell that I am a self-taught artist. Doing techniques wrong and learning as I go. Everything I learn is by mistake, and looking techniques up online. I'm not a traditional artist, or a realistic artist (which I wish I was better at). I'd say through my influences, and style, I'm an urban artist. I'm just Durt McGurt, aka Durty-1, and urban artist.
Can you please explain what you have completed professionally?
I did an album cover for b. Dolan's remix album for Sunken House Fallen City Dessert Sessions, and I won a t shirt contest for Michael "Eyedea" Larsen which got 787 votes. Along with these two art pieces, I also did a small series of skate decks for CrushKill Recordings paying tribute to Eyedea (you can see these on my art page).
Bob, we grew up together and you were a talented athlete. Do you feel that art fulfills your competitive spirit?
Without a doubt. I mean it's a competitive field, and what one person likes, doesn't mean that another person will. There's such a variety of talent out there that we're all trying to get noticed. When I see a piece that just blows my mind, usually done by Jeremy Fish, I just push myself to get better. Not to mention that my good friend is an artist as well, Mancat, and when he shows me something that is just a kick ass piece that makes me wanna top him by doing something that is just bananas. If I get to a point when I am not being competitive, then I'm not pushing myself and the creativity is done. I'm either competing with someone else's creativity, or myself by trying to outdo my last painting. So, yeah I do feel that art fulfills my completive spirit.
How important do you feel that art education and music outlets are to the youth growing up with the fast evolving world of electronics and hand held devices that are dominating our culture?
Mike, all around education is good on all levels, but art and music are an expression of feelings. Art and music will always be around, so if you choose to do one or the other, be educated on how to do it. The more you know the better you will be at it, and that goes for what ever you choose to do. It will only make you better, and smarter, and even more motivated to get better. People use art and music as an outlet everyday. For me, it's a form to deal with some shit that is hard to deal with, I can vent through my spray can, brush, and just punish that canvas by letting loose. It can be very therapeutic. It's a great way to escape reality. There is only so much frustration that you can get out on posts on the social sites, so concentrating on something else for a bit is was great stress relief. Regardless, we're always going to be facing the fast growth of technology. It's going to
be up to that person to make sure that they get educated on what they are passionate about. We will always have art and music as long as people continue to express themselves.
What is coming up next for Durt McGurt?
Mr. McGurt has a bunch of new plans in the future. I've been working on getting my graffiti style better. I want to take my current style and incorporate with a more graffiti style too. I've also teamed up with my dude Mancat, and we have plans on collaborating on a bunch of new things. We're calling it Durtycat, and we just had our first show, and it turned out great. We missed you there too man. His style is a traditional and realistic artist (not to mention he's fucking killer artist), and we are going to mix that with the urban style that I do. I am currently in planning out a wall for a business to graph out, and just make it "Durty".
Really my main focus is to stay happy, stay creative, and taking Durty Art and DurtyCat to the next level. I just want people to see my art, and be happy. I've connected with so many awesome people with my art.
Thanks for your time Mike, and even more important thanks for your support. To who ever reads this, thanks, and please visit my page. If you like what I do, click that "Like" button, I appreciate all my followers and supports.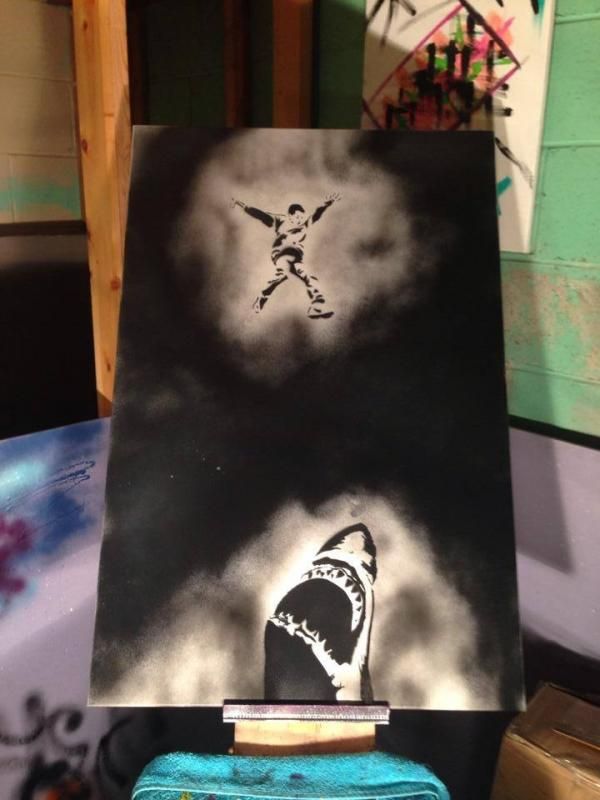 Bob, this was absolutely my pleasure. I'm very proud of the work you're doing and continue to evolve, I know you will. Everyone go check out his art pages on facebook: