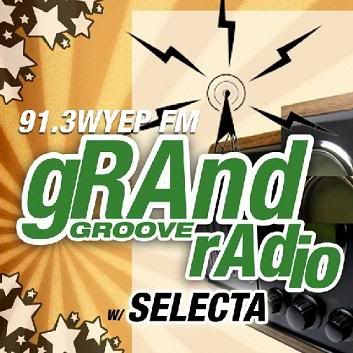 Grand Groove Radio is a very soulful show on 91.3 FM in Pittsburgh, PA. DJ Selecta plays these wonderful jams every Sunday night from 12 am - 4am. If you have questions or want to show your support:
91.3 FM WYEP
Attn: James Scoglietti
67 Bedford Square
Pittsburgh PA 15203
Here is the playlist from show #28. And the download link to listen is:
http://www.areweontheair.com/grandgroove092010.mp3
Time Artist Song Album
09/20/10 - 12:00 am - WYEP Afterhours: Monday with Selecta
12:00 am Twizz Rememberlude (Feat. PM) 12"
12:06 am The Floacist Forever (Feat. Musiq Soulchild) 12"
12:10 am Esthero Thank Heaven 4 You (Freddie Joachim Remix) Olive Juice (Love Remixes Vol. 1)
12:13 am Full Crate, FS Green & Grand Jackson Feel Like (Feat. Mar) HomeMade
12:16 am Joanna Newsom The Book of Right-On The Milk-Eyed Mender
12:19 am The Roots Right On (Feat. Joanna Newsom & STS) How I Got Over
12:24 am John Legend & The Roots Little Ghetto Boy (feat. Black Thought) Wake Up Everybody!
12:28 am John Legend & The Roots Hang On In There Wake Up Everybody!
12:32 am Kanye West Lord Lord Lord (Feat. Mos Def, Swizz Beatz, Raekwon & Charlie Wilson) 12"
12:38 am Trackademics Fool On The Hill (Feat. Phonte 12"
12:46 am Fata Hey Jij Gewoon Bam
12:49 am Consequence Got Me Trippin (The Amerie Joint) 12"
12:52 am Black Milk Over Again (feat Monica Blaire) Album Of The Year
12:56 am Huey Nuetron (B Blunt + Vex) I Just Wanna Be 12"
09/20/10 - 1:00 am - WYEP Afterhours: Monday with Selecta
1:03 am Mayer Hawthorne No Strings (Classixx Original) 12"
1:07 am Paper Dolls I Can't Get You Off Of My Heart 12"
1:11 am Roy Ayers Aragon Coffy OST
1:14 am Jonnny Pate Can't Even Walk Shaft In Africa
1:17 am Edwin Starr Easin' In Hell Up In Harlem (Original Motion Picture Soundtrack)
1:19 am Martha Reeves Keep On Movin' On Willie Dynamite (Music From The Original Motion Picture Soundtrack)
1:23 am Bobby Womack Across 110th Street Across 110th Street
1:27 am James Brown Make It Good To Yourself Black Caesar
1:30 am Willie Hutch Brother's Gonna Work It Out The Mack OST
1:34 am The Impressions Make A Resolution Three The Hard Way (Original Motion Picture Soundtrack)
1:38 am Isaac Hayes Run Fay Run
1:41 am Brer Soul & Earth Wind & Fire Sweetback's Theme Sweet Sweetback's Baadasssss Song
1:43 am Mike Bloomfield / Al Kooper / Stephen Stills Season Of The Witch Super Session
1:46 am James Mason Funny Girl Rhythm Of Life
1:57 am Kool & The Gang Give It Up Kool & The Gang
09/20/10 - 2:00 am - WYEP Afterhours: Monday with Selecta
2:00 am Uptown Dope On Plastic 12"
2:03 am MC Lyte Cappuccino (Remix) 12"
2:06 am Mic Geronimo Unstoppable 12"
2:09 am Cannonball Adderly Capricorn Soul Zodiac
2:10 am Pete Rock & CL Smooth In The House Mecca & The Soul Brother
2:12 am Lords Of The Underground Flow On 12"
2:13 am John Legend & The Roots Our Generation (J.Period Remix) Feat. Pete Rock & CL Smooth Wake Up Everybody!
2:17 am Tower Of Power Sparkling in the Sand East Bay Grease
2:18 am Diamond D Sally Got A One Track Mind Stunts, Blunts, & Hip-Hop
2:20 am Show & AG Fat Pockets (Remix) 12"
2:22 am Doo Wop The Bounce Master 12"
2:24 am Charles Wright What Can You Bring Me You're So Beautiful
2:27 am Brand Nubian Punks Jump Up To Get Beat Down 12"
2:30 am Brand Nubian Punks Jump Up To Get Beat Down (Diamond D Remix) 12'
2:32 am Beatnuts Reign Of The Tec !2"
2:33 am Organized Konfusion Stress Stress:The Exinction Agenda
2:34 am Smif-N-Wessun Let's Get It On Dah Shining
2:37 am Nas Represent Illmatic
2:41 am War Deliver The Word Deliver The Word
2:44 am Gangstarr The Planet Hard To Earn
2:47 am Gangstarr Brooklyn 12"
2:48 am Main Source Fakin' The Funk White Man Can't Jump EP
2:51 am Special Ed The Mission Legal
2:54 am Eric B & Rakim Lyrics Of Fury Follow The Leader
2:55 am Jungle Brothers Straight Out The Jungle Straight Out The Jungle
2:57 am Mandrill Mango Meat Just Outside Of Town
09/20/10 - 3:00 am - WYEP Afterhours: Monday with Selecta
3:01 am Foreign Exchange Come Around Connected
3:04 am Mabanua Mystery (Feat. Nicholas Ryan Gant) Done Already
3:07 am Will Sessions Kindred A Tribute To The Pioneers of Jazz Fusion EP
3:12 am Fatima Warm Eyes (Feat. Dam-Funk) Mindtravelin EP
3:17 am Yahzarah Cry Over You (Feat. Phonte) The Ballad Of Purple St. James
3:19 am Jim Bennett Hold That Groove Peoples Potential Family Album
3:23 am D-Train You're The One For Me 12"
3:26 am Mophono Tighten Up 7"
3:30 am Curtis Mayfield (Don't Worry) If There's A Hell Below We're All Going To Go Curtis
3:33 am Rudy Ray Moore's Filmore Street Soul Rebellion Put Your Weight On It 7"
3:37 am Kitty Winter Gypsy Nova New Morning Feel It
3:40 am Quantic Presenta Flowering Inferno Dub Y Guaguanco Dog With A Rope
3:44 am Soulive Something Rubber Soulive
3:47 am Bootsy's Rubber Band Rather Be With You 7"
3:52 am Erykah Badu Certainly (Flipped It) Baduizm
3:54 am The Pharcyde Emerald Butterfly 7"
3:56 am Zo! and Tigallo Take On Me (Feat. Phonte & Carlitta Durand) Zo! and Tigallo
Show your support and hit up James Scoglietti aka DJ Selecta on his facebook page. He is the man on the wheels at Shadow Lounge for his regular set
Classic Material
which is just like it sounds, all classic hip hop gems. I thoroughly enjoy Classic Material Nights and they often have great acts to finish up the night that are in theme for the music being played. Such pasts guests include Large Professor, Pete Rock and Rob Swift just to name a few. Keith Murray will be coming next on October 16th, make sure to get your tickets for that.
http://www.facebook.com/jscoglietti
Enjoy,
M.G.