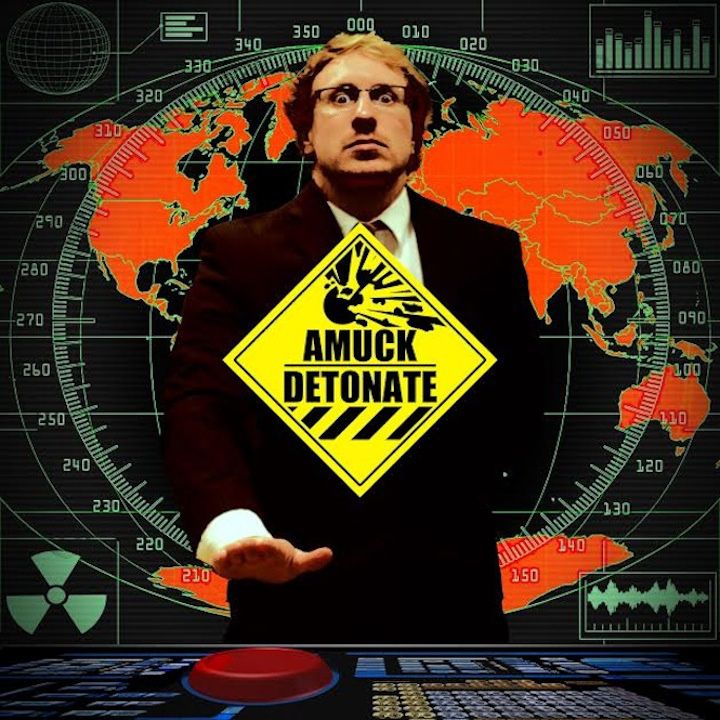 Pittsburgh recording artist Amuck has an EP that was released at the end of November titled
Detonate
. It has 4 tracks that were produced by Kiltervision at Battlemute productions with additional production done by Sikes. I first heard Amuck perform with Sikes and Kiltervision at Diesel in 2010 as they opened up for one of my all time favorite hip hop groups, Jedi Mind Tricks. I was really impressed with the live performance for a few reasons. To be honest the crowd turn out that early in the evening was very poor, but the energy and music that I was seeing made me get up and get closer to the stage as I was impressed to see it being performed at a high level. I think that tells a lot about the bands character and passion when faced with an event where there is a below average turn out, the band rocks it as if they were performing in front of 20,000 people. That really stuck with me. The bottom line is, no matter how much passion you have, the music has to be original and have feeling. It has to come across as an extension of the people performing it and I really dug what I was experiencing. That's exactly what an Amuck live show is, an experience. Of all the shows I've seen from any level of success, from the commercially iconic names in rock and hip hop to the indie level of punk, I always thoroughly enjoyed my experience at every Amuck show I've attended. It's something that I think is one of the highest compliments that you can give an artist is that they are able to rock a stage and pour their skills and creativity into a package that lets you into their world. It's a special attribute a lot of people and bands just simply don't have.
Detonate
is short release but isn't short on content. It's definitely hard and unfair to compare this music since it is very original. It is on my hip hop blog because there is a lot of characteristics that are alive that fit a hip hop style. Amuck, Sikes and Kiltervision all have emcee skills on the mic. The beats are laced with some hard hitting rock, electronica, punk, hip hop feel. If I have to lay some music that it reminds me of when I hear it, just name of a few Nine Inch Nails, Marilyn Manson, Rage Against the Machine, Jedi Mind Tricks, Beastie Boys and Cage come to mind. A lot of pure hip hop heads have a lot of interest in other genres like metal, punk and alternative rock and would find this to be refreshing. The first track on this EP is
NA
(
Necrophiliacs
Anonymous
). It's got a real alternative electric pace to the track and is a good track placement to start off the album. It poses some interesting points on some ways that Amuck would like to be more like a teen idol, making it rain, being more accessible finishing with you can tell him over his dead body about what he is supposed to be. The next rack
Binge
is probably my favorite song of the EP. The beat is more up my alley on things that I'm really into, making me bob my head as I walk down the street every time this blasts through my headphones. A little more upbeat with drums that are funky. I like the contrast with the beat and the way that Amuck sings the chorus with a really strong pitch that will make you want to jump up to the stage and sing right along with him. Switching gears again with
Magnets
, this is back to a more electronic feel, slowing down with some singing that goes into a flow that would be reminiscent of El-P. It's a challenging delivery packed with a lot of energy. I do like the reference to "tagging his heart up" with the sound of a rattling spray paint can in the background stating that "no one gets me." Lord knows I have only felt that way most of the time, haha. The EP finishes strong with
Dark Matter.
A louder, chaotic track that I think is a good way to end this EP stating "Fuck religion, mother fuck politics, fuck these pigeons that are dropping bombs on my car and shit. If you're listening to me and you don't think that I'm ill, I'm going to recommend an entire bottle of sleeping pills.". But my man is always open for constructive criticism.
I enjoyed this EP and I think it's a strong piece of work done on his terms. That is what I have found very refreshing. Please check this album out for yourself here:
Amuck Bandcamp
Amuck Facebook
I strongly recommend to go see a live show as soon as you can to take part in the high energy experience. There aren't many of them out there.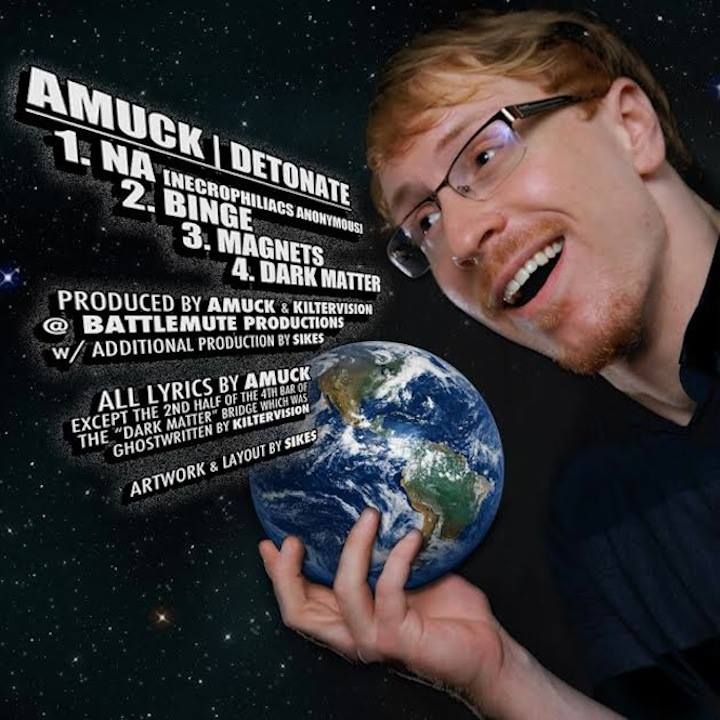 Enjoy,
M.G.