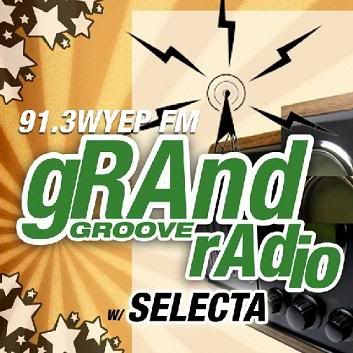 Grand Groove Radio airs live every Sunday night from 12am-4am with DJ Selecta on 91.3FM WYEP in Pittsburgh and online worldwide. He can be reached @ 412-916-7365.
All music for consideration can be mailed to:
91.3fm WYEP
Grand Groove Radio
Attention/James Scoglietti
67 Bedford Square
Pittsburgh PA 15203
Download link for this Holiday Edition Show:
http://www.areweontheair.com/grandgroove122010.mp3
12:00 AM Bill Cosby Fat Albert Christmas Special 12" White 2:00
12:02 AM Grillade Just A Sad Christmas 12" White 4:01
12:06 AM Jimmy Smith God Rest Ye Merry Gentleman (Oh No Remix-Mic Break erve Remixed Christmas Verve 2:30
12:09 AM Mayer Hawthorne Christmas Time Is Here 12" White 3:00
12:12 AM Dj Jazzy Jeff & Ayah Xmas Time 12" White 3:02
12:16 AM Mar Last Christmas (Mar Variation) Mar Variations White 2:55
12:19 AM Musiq Soulchild O Christmas Tree Christmas Musiq Columbia 4:22
12:23 AM Rahsaan Patterson Wonderful Christmastime The Ultimate Gift Artistry Music
12:27 AM Collette Keep Christmas Alive 12" White 3:12
12:30 AM Stephen Colbert & John Legend Nutmeg A Colbert Christmas: The Greatest Gift of All! Comedy Central 3:00
12:33 AM The Soul Saints Orchestra Santa's Got A Bag Of Soul In The Christmas Groove Strut 3:44
12:36 AM Sharon Jones & The Dap-Kings Ain't No Chimneys in the Projects 7" Daptone 3:01
12:39 AM Binky Griptite Stone Soul Christmas 7" Daptone 3:20
12:42 AM Rufus Thomas I'll Be Your Santa, Baby Very Best of Rufus Thomas Stax 3:45
12:45 AM Albert King Santa Claus Wants Some Lovin' Christmas In Soulsville Stax 4:34
12:50 AM James Brown Soulful Christmas Funky Christmas Polydor 3:23
12:53 AM Carla Thomas Gee Whiz, It's Christmas The Complete Stax-Volt Singles 1959-1968 Stax 3:40
12:55 AM Milly & Silly Getting Down For Xmas-Mic Break In The Christmas Groove Strut 3:00
12:58 AM Shawn Lee's Ping Pong Orchestra My Favorite Things-Mic Break A Very Ping Pong Christmas: Funky Treats From Santa's Bag Ubiquity 1:30
1:00 AM Run-DMC Christmas In Hollis 12" White 2:59
1:02 AM Clarence Carter Back Door Santa 7" Atlantic 2:33
1:04 AM Dana Dane Dana Dane Is Coming To Town Christmas Rap Profile 3:00
1:07 AM Sweet Tee Let The Jingle Bells Rock 12" Profile 3:33
1:10 AM Juice Crew Cold Chillin' Christmas Winter Warnerland Warner Brothers 4:02
1:14 AM Hard Call Xmas My Christmas Bells Peanut Butter Wolf Presents Badd Santa Stones Throw 3:00
1:17 AM Blondie & Fab 5 Freddy Yuletown Throw Down (Rapture) 12" Chrysalis 3:30
1:20 AM Treacherous Three (Feat. Doug E. Fresh) Santa's Rap 12" Sugar Hill Records 4:00
1:24 AM Super Jay Santa's Rap Party 12" Sound Of New York, USA, Lonnie Records 3:22
1:28 AM Bootsy Collins Santa's Coming (AKA Santa Claus Is Coming To Town) Christmas Is 4 Ever Shout! Records 3:59
1:32 AM Kanye West Christmas In Harlem (feat CyHi Da Prynce) 12" G.O.O.D. Music 4:00
1:37 AM The Roots Millie Pulled a Pistol on Santa Just Say Noël Geffen Records 3:55
1:41 AM Kev Brown Christmas Wish (Feat. Tanzania) A Low Budget Christmas White 3:22
1:46 AM RoddyRod Donny's Carol A Low Budget Christmas White 2:45
1:49 AM Cocoa Tea Christmas Is Comming Rocking Dolly RAS 3;00
1:52 AM Horace Andy Christmas Time 12" RAS 2:49
1:55 AM Freddie McGregor Come All Ye Faithful A Reggae Christmas RAS 3:00
2:02 AM Leaders Of The New School Classic Material T.I.M.E. Elektra 3:02
2:07 AM Ultramagnetic MC's Raise It Up 12" Wild Pitch 3:32
2:11 AM Caig Mack Get Down (Q-Tip Remix) 12" Bad Boy 3:00
2:14 AM EPMD You're A Customer 12" Sleeping Bag 2:45
2:17 AM House Of Pain Word Is Bond [Diamond D Remix] 12" Tommy Boy 2:56
2:18 AM Bizmarkie Pickin' Boogers Goin' Off Cold Chillin' 2:00
2:20 AM De La Soul Afro Connection At A Hi 5 De La Soul Is Dead Tommy Boy 3:45
2:23 AM Marley Marl The Symphony In Control Volume 1 Cold Chillin' 4:02
2:29 AM Marley Marl The Symphony Pt. 2 In Control Volume 2 Cold Chillin' 2:22
2:32 AM A Tribe Called Quest The Hop Beats, Rhymes & Life Jive 2L33
2:35 AM D-Nice Call Me D-Nice Crumbs On The Table Jive 2:37
2:40 AM Special Ed Taxing Youngest In Charge Profile 2:49
2:42 AM Eric B & Rakim Paid In Full Paid In Full 4th & Bwy 2:21
2:44 AM Poor Righteous Teachers Time to Say Peace (Remix) 12" Profile 2:04
2:47 AM Common Communism Resurrection Relativity 2:06
2:49 AM Naughty By Nature Uptown Anthem 12" MCA 2:31
2:51 AM Big Daddy Kane Raw 12" Prism 2:01
2:52 AM Redhead Kingpin Do The RIght Thing A Shade Of Red Virgin 2:00
2:54 AM Digital Underground Doowutchyalike Sex Packets Tommy Boy 4:32
2:59 AM UMC's One To Grow On Fruits Of Nature Wild Pitch 3:00
3:02 AM The Detroit Experiment Think Twice The Detroit Experiment Planet E 6:18
3:10 AM Erik Rico & Marc Mac Destiny DIrect Soul EP Third Planet 4:12
3:14 AM Glenn Lewis Good One 12" White 3:06
3:17 AM Peter Brown For Your Love 12" T.K. Records 4:12
3:22 AM Rahsann Patterson What Am I Gonna Do (Spinna Mix) 12" Dome Records 7:00
3:28 AM Light Of The World London Town 12" Mercury 3:25
3:32 AM Screan & Shout 1 (Feat. Miles Bonny) 12" White 3:12
3:38 AM D'Angelo Left & Right (Sam Champ Remix) 12" White 4:00
3:42 AM Dwele Free As A Bird Sketches Of A Man Kock Records 3:26
3:45 AM Eric Roberson Been In Love (Feat. Phonte) Left Blue Erro Soul 3:53
3:49 AM The Foreign Exchange Don't Wait Authenticity FE Music 3:52
3:52 AM ZO! & Tiagllo Something About You (Nicolay's Quite Storm Nighty Night Remix) ZO! & TIgallo Love The 80's ZO! 4:05
3:56 AM The Pharcyde Emerald Butterfly 12" Delcious Vinyl 4:01
Enjoy,
M.G.