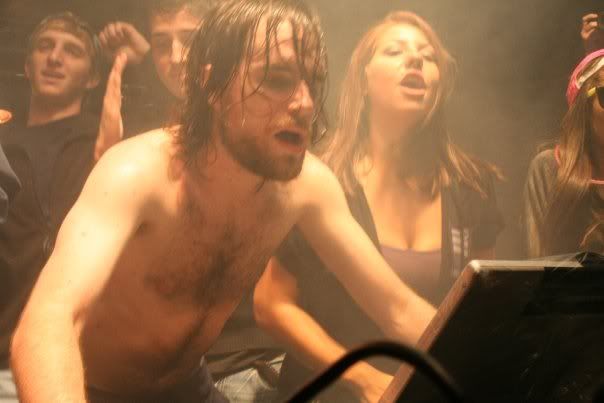 Greg, you've been making music for about a decade now; how do you feel the music industry has changed since you first started compared to now?
CD's used to sell. People's opinions on the internet used to not matter too much. People used to watch videos on TV. Seriously, it's an entirely different world now.
You have been the center of attention on copyright issues with your style of mash-up music, do you feel that the industry has backed off a bit from trying to use you as an example or are they still trying to cite unfair use?
I've only been the center of attention on copyright issues in the eyes of certain media sources. That's been newspapers and magazines, which I understand. It's an aspect of the music, it's a story, so people tell it. The actual "industry" has not done anything with me. No letter of complaints, no cease and desist.
We did talk about this briefly before, RIP: A Remix Manifesto in my opinion did a good job portraying you as an artist. How did you feel the documentary showcased you?
I believe in most of the politics pushed in that film. It's just a little complicated because I'm not trying to be the posterboy for any sort of movement, but I think the film captured that aspect. Everything I have to say about copyright is implied in my music and how I release it. Bottom line is that I want to make sample-based compositions because that's the style of music I grew up on and enjoy. I never set out to break down the laws or anything.
You have a unique live show experience in that the audience can get on stage with you and be a part of the performance. Where did this all start? And do you ever fear that things might get out of control or you are in an unsafe position?
In the early days, I would play many venues with no real stage. Back then, it wasn't weird to just exist in the crowd and get people involved in that way. So when things started taking off a little bit, when shows started getting larger, I wanted to stick by that idea, and I would pull people up. From there, I think people saw videos and pictures, and it just became the standard etiquette.
You have been able to travel the world over the years and play some pretty large crowds. Do you notice a difference in how you are received by fans when you play for example in France compared to Australia and then play in the U.S.?
Definitely. I think it all depends on exposure. In Australia, for instance, I've been able to go over there 4 years in a row now and play at some larger festivals. So when I do club shows, it's about as large as it is in the United States. I've spent less time in Europe, so it's just like at the level of the US a few years ago. Shows can go well, but it's at a smaller level. Then, dealing with sample-based tunes, there is a different level of recognition for certain songs. When you sample AC/DC in Australia, people are probably gonna get rowdy. If you're in Lille France and you're remixing a song from the new Wacka Flocka mixtape, you really can't be sure how familiar the crowd will be.
What are your future music plans?
I'm going to make a new album, starting this summer, hopefully being done by the end of the year.
How do you feel about living in Pittsburgh in general and as your music popularity is increasing do you see yourself staying in the area?
I'm happy living here. I don't think I'm going to move anytime soon.
If people want to contact you, what is the best way to reach you whether it be for booking of shows, fan support, etc.
I answer all of the facebook, twitter, myspace. For shows, my booking agent is Sam Hunt: sam@windishagency.com
I really respect your contributions to music and wish you the best Greg, thanks for taking the time to do this.
thanks man!