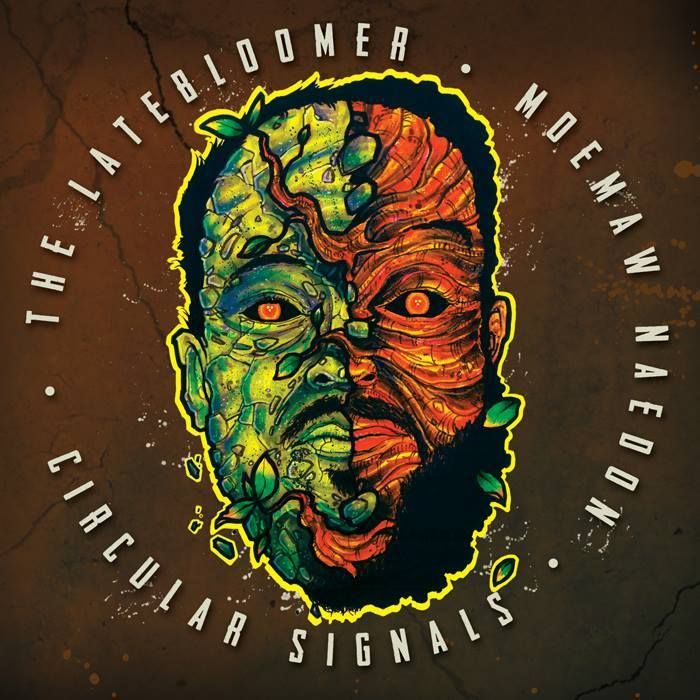 "No commercial junk, its that grown man funk." - Double K from People Under the Stairs "On and On".
That is exactly how I feel about this album, Circular Signals by The Latebloomer & Moemaw Naedon on Surface Level Records. It is a very cerebral listening experience that I thoroughly enjoy. All the beats were produced by The Latebloomer and I am very impressed with his work on this, these beats were exquisite. The strong core of jazz flowing through this album just made me smile. It gave me a legitimately good feeling knowing that I'm listening to some genuine hip hop music. Moemaw Naedon is an incredible lyricist that showed me more of his writing ability on this project. There are great features with Brother Seamus, Joey Smooth, Connect Rhymes and Frigid Giant.
It starts out strong with
The Minute
, it perked me up in my seat and Naedon jumps out the gate setting the tone over a melodic beat, "I spend my days waiting for the night, that's when I sit and sort signals and reflect them like a satellite."
Parallel Perceptions
is a great gear downshift to smooth things out and ride with a transient horn. Track three,
The Line
really grabbed me and was really impressed with Naedon opening up a lot more on this song with this very striking verse of, "I heard the hi-hat whisper on the snare yell, the kick drum said something but I can't tell, try to decipher what they speak but I can't spell it out quite yet let it fester in the brain cells." There is a gentle guitar pluck that really allows the words to stand on the images they are creating and this made me open up my notebook and write this down the first time I heard it. The Latebloomer came in next keeping the story going really strong with, "And I almost blew a gasket, surly on the train, headphones couldn't mask it, thoughts up in my brain about how full could the flask get, left with a bunch of questions no heart to ask it." The chorus just keeps everything glued together, "What happened to them good times? You know, the time when everything was properly aligned. Never knew it, but you stood knee deep inside. A moment when you look back and watch yourself collide. A scope inside your heart can poke into the darkest eye and intercept the vibes clouded by the sound of lies. I heard the voice and the beat is telling me to rhyme, we aint gonna waste your time, let's run it down the line." That is poetry my friends! Track six really picks things up a bit and just got my head bobbing with
The Lighthouse feat. Frigid Giant
. The speed and flow that just comes off the tongue so easy, Frigid Giant makes me interested to hear more from him. Track seven,
A Passing Face
gave me a nice dish that was reminiscent of a masterpiece from John Dankworth. There is a very subtle part, that really bit me, "...and that's my only way home, I don't even know where the fuck that is, where the fuck is that? lost my way." I am currently bouncing around in a new city without a home and I was walking around downtown on a Saturday playing this for the first time and I just laughed to myself and said, Yeah! I know how you feel! haha. Track nine,
Trife Magic feat. Brother Seamus
is one of my favorite beats on the album. I found myself going back to that one over and over to hear that horn with those delicious drums. It's one of my favorite overall flows for sure.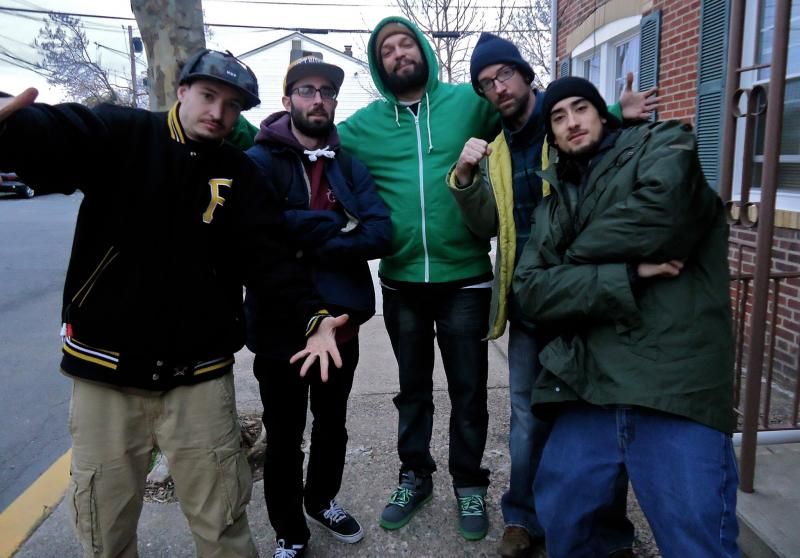 Track eleven,
Styles Unbelievable
took me back to the days in the 80's into the 90's when crews were really strong and kicking music together. It reminded me of something from the Native Tongues just getting down and feeding off each other. That shit is just not happening anymore for whatever reason and this was super refreshing. Joey Smooth came in after Nadeon and fed off his middle name given in the verse and I loved it! Too many albums, even great albums over the years, are just too sectioned off, probably recorded in different locations and different times and don't even really go together. "I came to save the planet, kick ass like Power Rangers....this is some Samuel L. Jackson with a light sabre ish." Joey Smooth for the win! Then Connect comes up and feeds off Joey's middle name, and it was a really chill song where they came together to keep it fun. That's the thing that was really refreshing about this whole body of work was that, it was very introspective but you know these guys genuinely love music and were having fun. That's huge.
Track fourteen,
Straight to the N.O.
by Brother Seamus is the perfect finish. This was Brother Seamus at his best. There was a sense of urgency on this, it was almost like someone sat him down and gave him an ultimatum that this was his last chance and he stepped up the fuck up. There was regular season Jordan, then there was playoffs Jordan. And this was playoffs Seamus. I would be curious to hear from him where his writing process and motivation came from on this song, because he owned this from start to finish. This was great track order to place this last, really strong finish. I definitely took a step back and said damn, what woke up the monster. You have all loved an emcee, and know when something comes out that you just say damn, he was really feeling this one. And this was that moment in the career for Brother Seamus.
Circular Signals is definitely M.G. approved! This is the kind of hip-hop I want to see live as well, and recommend to do what you can to go see them when they come to your city! The only thing I can really say is that I hope these guys stay hungry and keep challenging themselves with new beats, styles and growing in their writing. This album needs to get out there and reach as many people as possible and it's times like this where it makes me happy to have the platform to communicate and share great music and have the trust from artists who send me music and allow me to do this. Please go purchase this album on iTunes at this link below:
Circular Signals on iTunes
Circular Signals Website
Surface Level Records
Hope you enjoyed,
M.G.